Are you in search of a professional embroidery machine that would give you dazzling designs? The Brother PE800 Embroidery Machine is easy to use and offers you an exceptional choice. It is because when you are shopping for sewing machines, you need to ask yourself the most important question. Do I need to embroider, sew or do both?
Thus, in this article, you will find a comprehensive review of this machine with all its specifications. And, it will help you decide whether this machine is suitable for the nature of your work or not.
What to Know Before Buying Brother PE800 Embroidery Machine
While considering buying the Brother Embroidery machines, you need to know its design format. Thus, if you want to embroider your designs, you need to transfer them into .pes format.
The reason for doing so is that only professional machines can read jpg or jpeg format. And converting designs into this format is not rocket science. Look online or buy digitizing design software that will definitely be worth the cost.
Furthermore, as this embroidery machine is ideal for beginners, it comes with all the necessary accessories. The package includes stabilizers and embroidery threads. At a glance, a newbie might feel that he or she is buying excess stuff along with the machinery. However, once he does not find these things at home, he will realize that he is spending correctly in the right place.
Moreover, you can avail of this machine to its fullest by just pooling in extra bucks for embroidery accessories. It is because it is ideal for the person who wants to set his or her hand on the embroidery hobby.


Pros
At a reasonable price, it gives quality stitching
Customized stitching with an add-on feature of design edition on the screen
Through USB, one can easily transfer the design into the machine.
Cons
No digitizing software in this model of Brothers Embroidery machine
No adequate storage place
Only ideal for beginners
Additional cost of buying separate software
It is not multi-purpose; it is an embroidery-only machine and you will need another sewing machine for stitching.
It is not a multi-needle embroidery machine and you will need to rethread every time the color changes
It does not have a large embroidery field.
Significant Features of Brother PE800 Embroidery Machine
It has on the screen editing option that allows the user to streamline the optimized designs. Furthermore, the users can easily make use of the color screen and see clearly what they are embroidering.
It has a single needle feature. This feature entails that you need to change the thread every time when the color on the design changes. Even though it appears like a hassle, the beginner can easily learn and set his hand and pace on the machine.
The user guide or manual is very comprehensive and streamlines the understanding of machine usage. In this respect, this machine model has a great learning curve for the ones who use the machine for the first time. Furthermore, they can also utilize YouTube tutorial sessions online and get additional help with regard to machine usage.
This machine has an embroidery-only feature. This means that if you are embroidering a monogram on the dress, you won't be able to stitch the rick-rack on the bottom. For that, you need to use another stitching machine.
There is an automatic thread cutter, needle, top-drop bobby pin and an automatic setting by default of thread tension.
What Designs Can You Embroidery with Brothers PE800 Embroidery Machine?
Disney Designs
From the built-in USB port, the users can export in the designs or can always buy the Disney designs from Brothers USA.
Using Different Fonts
This embroidery machine comes with 11 font styles that are ideal for lettering and monogramming. The fonts include; 7 in English, 1 in Cyrillic and 3 in Japanese.
Using in-built Embroidery Designs
This machine comes with 138 in-built designs that include different quilt patterns, scrollwork and floral. In this way, the users can customize their designs of embroidery in a myriad of ways. In this way, the creativity of the designer or a beginner can flourish.
Compatibility with iBroidery
This design application allows the users to take in any unique design they wish to embroider on the present fabric.
14 Border Designs and 10 Frame Shapes
The frame shapes include rectangle, circle, oval, heart, octagon, and shield-like shapes; one being guitar and one being badge one. For each of these shapes, there are 14 border designs to go with.
Digitizing Software
It is not necessary for the users to convert the designs into JPG, JPEG, PES or any other format. With the installed digitizing software, they can either export or create patterns from the computer to the machine easily.

Certain Tips to Consider Before Buying the Brother PE800 Embroidery Machine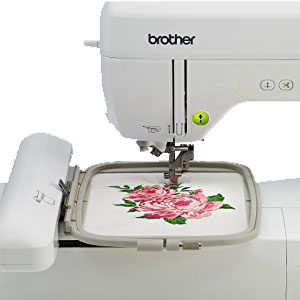 Get some additional help before using this embroidery-only machine. That means visiting YouTube for tutorials and reading the guides on the internet may streamline your usage on this machine.
Keep in mind that it is only an embroidery machine. Thus, if you want to do some stitching on the fabric you embroider, you need to use a separate sewing machine.
You need to flatten the cap before using the hat loop by removing stitches for proper embroidery.
The majority of the time, machines of this brand may not have the right bobbin and the thread tension. The beginners may feel that there might be something wrong with this machine or it may be of poor quality. Hence at this time, YouTube tutorials come into help.
In order to prevent the needles from breaking too often, you can use the stand-up holder for the upper thread.
Keeping extra needles will help in the timely completion of the embroidery work.
Make sure that you buy a quality stabilizer so that it can give support to the fabric. In this way, your fabric may not stretch or pluck as you embroider.
Buy quality embroidery thread because cheap ones may break often creating hurdles in your work. Also, the Brothers PE800 machine will become less useful with cheap quality thread.
A Look into the Brother PE800 Grand Slam Package
This package is ideal for the amateurs and the beginners. It is because it contains all the necessary add-ons that are essential for the embroidery to go smoothly.
Stabilizer.
1500 customized designs.
Sock hoop.
Cap hoop.
64 embroidery thread.
Bobbins.
Scissors.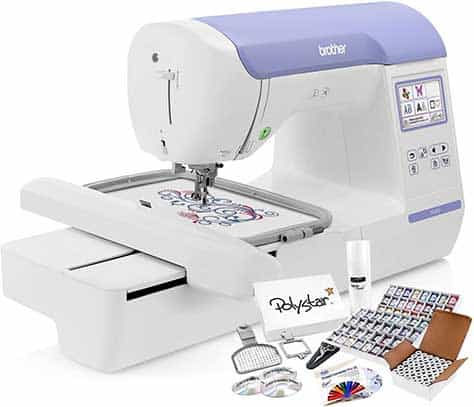 Some Additional Aspects of Brother PE800 Embroidery Machine
Touch Screen of LCD and Large Display
The 3.2 inches touch screen of LCD allows the users to speculate the embroidery designs in their real colors. There is also an installed palette through which the users can change colors of embroidery thread before they start their work
The Embroidery Field
This large embroidery field of 5 by 7 inches provides ample of space for lettering and for designs that require less rehooping. Also, on the LCD screen, you can preview your layout before starting stitching.
The in-build LED Light
The built-in LED light brightens the area surrounding the needle place. This feature comes in handy especially when the user is working on dark fabrics and wants to position multiple designs for embroidery in the hoop.
The Automatic Needle Thread
At the touch of the lever, this feature takes care of threading the needle for you. It reduces strain on your eyes. Furthermore, this feature comes in handy when the embroidery designs require changing thread multiple times.

Great For Beginners
This machine is only applicable for embroidery, applique and allows you to do quilt designs. Even though it is ideal for beginners, this machine cannot sew. Its purpose is an embroidery only. So, those individuals who want to set their hand on embroidery and learn this skill through practice, this is the best embroidery machine.
Specifications of Manufacturer's Warranty
The Brothers home machine has a reliable and decent warranty. The nature of the warranty is thus followed:
25 years limited warranty.
Free technical support either through an online or phone call.
5 years warranty from the date of purchase from Printed Circuit Boards and Electronic Components.
Who can use the Brothers PE800 Embroidery Machine?
This embroidery machine is best for all users who want to use it for embroidery purposes. However, it is ideal for beginners who want to learn embroidery designing as a first step to their designer career. For people who have large scale designing business, it is not suitable due to its limited storage capacity.
Frequently Ask Questions
Can this Machine Embroider on Thick Fabric?
Yes, this machine embroiders on thick materials such as denim and canvas. The only thing is that you select the right needle, stabilizer, and thread for them.
Is it a Good Embroidery Machine for Beginners?
Yes, it is ideal for beginners because operating it and threading through it is very easy. All you need to do is follow instructions and look at YouTube tutorials.
Does it have a USB Port?
It has a built-in USB port whereby the user can transfer designs in the machine. Thus, this machine becomes friendly with multiple design types. Thus, users can achieve versatility in their embroidery work.
Check out which are the best selling Brother sewing and embroidery machines and their accessories: